Daniel Negreanu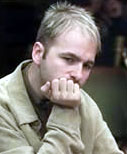 This young Canadian began making his mark on the world of poker at a very young age. After learning to play at the tender age of 15, Daniel Negreanu moved to Las Vegas and became the youngest player to win a world championship event. In 1998 at the age of 23, he won the first WSOP event that he'd ever played-the WSOP Pot Limit Hold 'em tournament. In fact, between 1997 and 1999, he won more major tournaments than any other player-12 to be exact.
When asked what he would change about the world of poker, Negreanu says "the negative image," adding that he would love "for society to see that it can be a healthy profession: Get rid of all the bad apples, the cheats, the badmouths, the hot tempered, etc. If that happens, I can see poker being accepted more readily by mainstream society in the near future."
Negreanu cites a few players that he respects the most: "Jennifer Harman-for making it to the top of a 'man's' world; Allen Cunningham-for his ability and table demeanor; and Ted Forrest-simply the best."
Some facts
Daniel Negreanu was born in July 26, 1974, in Toronto, Canada.
2004, Daniel won the Championship Poker at the Plaza, No-Limit Hold'em
2002, Daniel won three events at the Legends of Poker: 5 7- Card Stud, Omaha Hi/Lo and No Limit Texas Holdem.
1999, Daniel was the US Poker Champion.
1997, Daniel was named the "Best All Around Player," in the World Poker Finals.
Photo Gallery